WordPress Website Development Course
The value of WordPress
WordPress is a driving force within the wider digital economy, fueling a massive ecosystem of makers, builders, and entrepreneurs that are leading the digital charge and meeting the inherent challenges of evolving technology head-on.
The Most Popular Way to Build Online
WordPress is the most dominant CMS on the market and the primary type of site on the web. WordPress is currently used by more than 41% of all websites and more than 35% of the top 10,000 most popular sites in the world by traffic. At 64.9%, its market share is far greater than all of its competitors combined.
The WordPress Economy
The financial value of WordPress is estimated at a staggering $596.7 billion and is forecast to reach $635.5 billion by the end of 2021.
If WordPress were a country, its economy would rank 39th in the world, according to an IMF list of countries by GDP.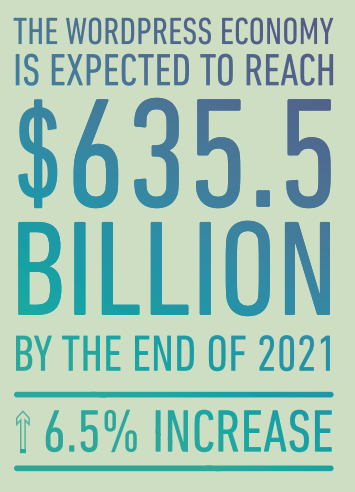 What will you learn?
In this WordPress website development course, we'll guide you through every step of setting up, creating, and maintaining your own WordPress website. 
After this training
you know what WordPress is and what it can do for you;
You'll be able to get your own WordPress site up and running;
you can create a website that fits your likes and needs, by using WordPress settings, plugins, themes, and widgets;
you're able to manage your WordPress site once it's up and running!
What topics are covered in this WordPress website course?
Introduction to WordPress. What is WordPress? What is the difference between WordPress.com and WordPress.org? What can you do with WordPress? What does open-source mean? In this module, we'll answer all these questions!
Getting started with WordPress. You'll learn how to get your own WordPress site up and running, by choosing a hosting company that fits your needs and then gets your own domain. After that, we'll make you a bit more familiar with the WordPress back end. Finally, we'll teach you how to find out how you want to use WordPress.
Customizing your site. You'll learn how to customize your site, so it fits your likes and needs. After this module, you'll know how to use WordPress settings, themes, plugins, and widgets. We'll also discuss the basics of page builders.
Creating content in the block editor. What is a site without content? Right! In this module, you'll learn how to add posts and pages to your WordPress site. Also, we'll show you how to spice up these posts and pages by adding images, videos, and more.
Structuring your site. You'll learn how to make sure people can find what they need on your site, by organizing your content with menus, categories, and tags.
Managing your WordPress site. Your work isn't done once your site is up and running. That's why we'll also teach you how to manage your WordPress site after you've set it up, with user roles, updates, and backups.
WordPress SEO. In this module, you'll learn everything about WordPress SEO, so people can actually find your site in the search engines! We'll discuss what WordPress does for your site's SEO out of the box, how the Yoast SEO plugin can help you, and what you should do yourself.
The story behind WordPress. We've added an extra, optional module to this course about the story behind WordPress. You'll learn about the history of WordPress, its vibrant open-source ecosystem, and we'll even tell you how you can contribute!
What's included in this WordPress website training?
3 hours of instructional videos, sliced into 43 bite-sized clips
PDF files/slides so you can quickly check the tips again while working on your website
23 quizzes to train what you've learned
a cheat sheet with WordPress vocabulary
Show off your WordPress skills and Website.
Once you've finished the training, you'll get a Yoast certificate and a badge you can display on your website.
Course fee: #50,000
Domain/hosting-optional: #25,000
All content for this course is created by Yoast and tutored by UCDIGITA.